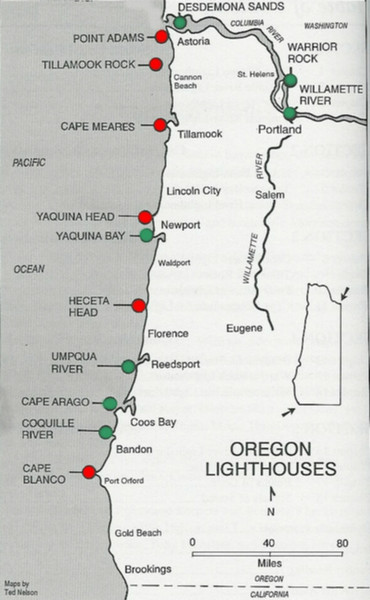 Oregon's rocky coastline is protected by eleven historic lighthouses.

Kathy loves lighthouses, their unique construction at visually stunning locations while helping save lives draws her attention. I love spiral staircases: construction feats of wrought iron. Once we visited the lighthouse in Port Isabel, TX. and took pictures and created an art piece by combining photos. With both of us liking these wonders, our guest bedroom in Austin was decorated for Kathy's mom. We made it Evelyn's coastal oasis with lighthouse pictures, a seascape, and a lighthouse throw which is still traveling with us. Lighthouses are a way for each of us to get a fix, we looked forward to Oregon's coast.
As we cut towards the coast we drove into Newport. We decided to camp at South Beach State Park, the largest state park we had ever stayed in. The first row of RVs were all camp hosts.
Some hosts worked with RVers, some with cabin rentals and some with the Yurt rentals. This might be a possible work camp position after our first journey is complete.
That night Frances, our little poodle, got sick.
She threw up all over her bed then had diarrhea on the throw rug. Poor Sick puppy we were terribly worried about her. She seemed to be running a fever and definitely wasn't feeling well.
Laundry, thanks to Frances, was the priority in the morning; we headed to town. Clothes in the washer, we drove a few blocks and found our first Oregon coast lighthouse.
We took pictures from the beach and returned to the Laundromat.
After laundry we visited another lighthouse and went downtown to watch the sea lions play.
Once on the road again, we enjoyed the coast so thoroughly that at one point Kathy noticed we'd only driven 53 miles in 3 hours. As we continued our Lighthouse search, a tropical storm came in. We made our way into Port Orford. A blinking light warned severe winds were making the road impassable for large vehicles, including us.
We found a grocery store and Joy went in and asked the manager if we could dry camp overnight. They said absolutely, we always say yes to anyone who asks. We were trapped at Ray's grocery and eating ice cream as solace. I'd bet the manager would be happy our parking along the edge of the parking lot caused a couple making out in the back seat of a car to stop and leave.
We had a quick dinner, walked the dogs in the pouring rain and were off to bed early. We were up and on road by 7:00 am. It was still raining but the wind had greatly diminished. This was the worse storm of the summer during our travels.
Beautiful coastal views now dark and ominous. Waves cashing on the rocks caused us to stop and sing the Hawaii Five-O theme song.
Cape Blanco lighthouse was like a painting with sound and texture. Our final lighthouse stop was one that had been moved inland after being destroyed by the waters it shines upon. The coast guard who operates this lighthouse stills uses its unique red and white lens.
As the rain lifted the road began to meander through the dunes which we just had to stop and climb. The Oregon Dunes National Recreation Area was an aerobic blast. Even Keila climbed to the top of the dune to see the Pacific Ocean on the other side. What a great way to say goodbye to the Oregon coast.